Toilet Paper Who Gives a Crap
Tax included.
Spend

$150.00

to

FREE SHIPPING
Description
Who Gives a Crap have created a great recycled paper toilet roll, "soft as unicorn kisses and strong as 1000 ponies". Great for wiping bottoms and gentle enough for noses too.
Features
GOOD FOR YOUR BUM
- 24 of our eco friendly toilet rolls, made from 100% recycled paper
- Super soft, strong & comfy 3 ply
- No inks, scents or dyes
- One wrapped emergency roll included, so you never forget when to stock up!
GOOD FOR YOUR POCKET
- Super loooong rolls with 400 sheets (2 x longer than the average roll!)
GOOD FOR THE PLANET
- 1 million trees are cut down every day to make toilet paper. Instead, we use recycled paper.
- Plastic-free products with recyclable packaging
- Biodegradable and plays well with septic tanks
- Carbon neutral all the way from the factory
GOOD FOR PEOPLE
- Did you know, 50% of Who Gives A Crap's profits from your purchase are donated to sanitation projects across the world? Go you!
- B-Corp certified for highest environmental impact
Waste Credentials
It doesn't make sense to cut down a slow-growing tree from a forest just to wipe your butt. Using recycled material creates a market for reusing paper that is no longer able to be made into printing paper.
Dimensions
3-ply contains 400 sheets per roll (double length rolls to save you changing them so often)
48 rolls per box - quantity is sold per roll
Origin
China (Australian owned company)
View full details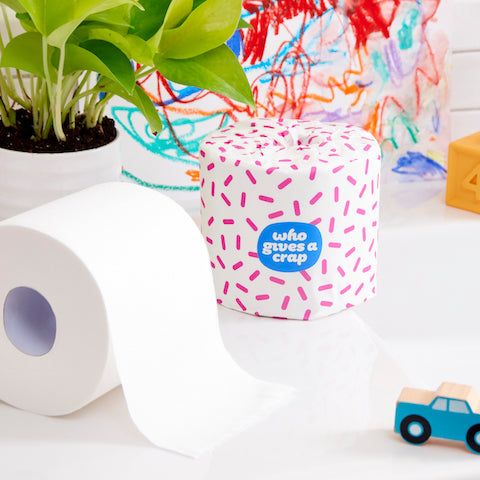 Toilet Paper Who Gives a Crap